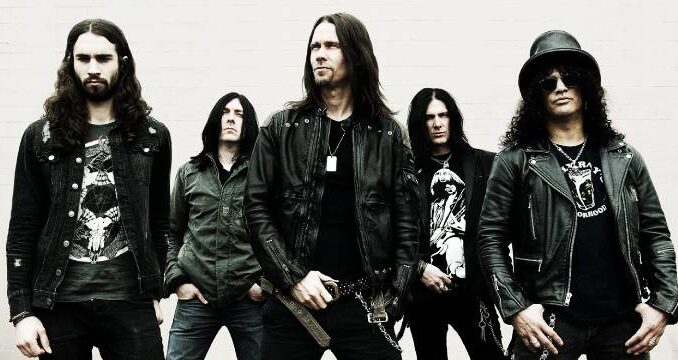 Con información de Ocesa
Slash and Myles Kennedy & The Conspirators han confirmado una serie de conciertos internacionales durante 2024.
The River Is Rising-Rest Of The World Tour comenzará con el regreso de la banda al Pepsi Center WTC de la Ciudad de México, durante el cual visitará treinta y dos ciudades, en 21 países alrededor del mundo.
Una década y cuatro álbumes en su carrera; el aclamado disco 4, que debutó como el álbum #1 de hard rock más vendido, es un material que une a estos tres grandes como nunca los habías escuchado. Un álbum de rock vibrante alimentado por guitarras memorables y melodías convincentes, grandes estribillos e incluso riffs sorprendentes. Es el caso de 4, que contiene éxitos con una amplia gama de sonidos, estilos y estados de ánimo, 10 canciones con un enfoque musical nítido y un sentido de inmediatez.
Este es el cuarto álbum de estudio de Slash and Myles Kennedy & The Conspirators y el quinto en solitario del guitarrista de Guns N' Roses.
El músico está acompañado por Myles Kennedy (voz), Todd Kerns (bajo y voz), Brent Fitz (batería) y Frank Sidoris (guitarra y voz), quienes se asociaron con el productor Dave Cobb (Chris Stapleton, John Prine, Jason Isbell, Brandi Carlile), para la grabación de este álbum, el cual resulta ser el más fuerte de la banda hasta la fecha.
Grabado en RCA Studio A en Nashville, Cobb compartió el deseo de la banda de grabar las pistas en vivo en el estudio, incluyendo solos de guitarra y voces, revelando un sonido impresionante y vital.
El álbum comienza con "The River is Rising", que alcanzó el puesto #7 en las listas de popularidad, convirtiéndolo en el octavo sencillo consecutivo del Top 10 en la radio; una de las composiciones más duras y dinámicas de la banda hasta la fecha, seguido de "April Fool".
Hoy, 4 es un álbum destacado que se sostiene desde el deliberado stomp rock de "Whatever Gets You By"; el brillante tono y pop rocker de "Fill My World"; los arpegios de guitarra de "C'est La Vie"; una canción exótica teñida de fiebre psicodélica con "Spirit Love"; la oleada de himnos de "The Path Less Followed"; así como el alboroto inflexible del cencerro de "Actions Speak Louder Than Words"; el ruidoso funk (Aerosmith) de "April Fool"; un ataque desenfrenado de "Call Off the Dogs" y culmina con la epopeya "Fall Back to Earth".
Boletos a la venta.